Interview With The Man Behind Jeudi Records, Doctor Dru.
by Admin
December 5, 2013
Hi Doctor Dru and welcome to UnderGround Tel Aviv, 
Where in the world are you right now ? 
Thank you! In the moment I am in Hamburg in my cosy studio while there's a huge storm happening outside.
What kind of music influences you while growing up? 
I grew up on German Schlager, Shanties ( Seamans songs ) and all kinds of traditionals sung by my father.
Thats what I realize when my compositions get too cheesy.
🙂 Later at school I was happy to have a lot of different influences of course. I've had very good music teachers and I started playing drums.
Thats when funk and jazz came on my radar.
How is the music scene in Hamburg right now? 
Hamburgs music is very diverse. There's a lot creativity happening. There's coming a lot of great acts of all music styles from here.
In our genre it's guys of our JEUDI crew, the Diynamic label or Smallville records to name a few. Just sometimes I wish the scenes would mix up a little bit more.
Even the scene of the same music styles. People of this club won't go to that club etc. But maybe thats a common fact in other cities, too.
When did the music production become a serious part of your life? 
When I was recording as a drummer in the studio I was more and more getting excited about what was happening behind the glass.
I was happy to know some old school guys who had a vintage studio with old synth, mics and tapemachines.
That's where I made my first experiences with recordings and production. Then I started to compose tracks for acts I was touring with and
thats when it all started back then in the late 90s.
What is your workflow of creating a track? Where do you start from? 
I often start with some kind of sample. It doesnt necessarily have to stay in the track. It's just something to start with for the mood. Better than a blank sheet of paper.
Then I build the track from scratch throwing in ideas. I have to be very fast in this phase cause that's when the best ideas are happening. After the first day I tend to question it
all again. If the track isnt in the right stage by then it probably will never get finished. Then I'm finalizing it the next days or also weeks. Depends how inspired I am. I am also testdriving the track at
the club of course to check the arrangement.
What kind of gear do you have in your studio ? 
It's kind of a mixture of in the box and analog synth support. I have a few nice analog synths but I m not the big synth freak. I love what analog can do but I
also like the recallable digital world.
Any new artists coming on JEUDI that you can tell us about? 
Of course. There's a lot of things happening right now. We will release another JEUDI Basics soon with beautiful edits by Bubba and Claus Casper.
and we are welcoming a new artist duo Danito and Athina. They have a great taste for smooth funkyish and deep house productions. Their EP is coming just before christmas on the 20th.
What advice would you give to aspiring producers ?
Skills can be easily trained nowadays with youtube and all the music teaching platforms. But you need the will, a lot of passion, ambition and patience in a good way. Use your time to get good once your not so successful. As soon as your start touring intensily there won't be much time left to sit relaxed in the studio and you will miss those days. I do.
Name 5 tracks you're digging at the moment What are you most looking forward to in 2014?
1. Illusiones Ft. Rafa Barrios – Sabb causes extensive dancefloor happiness. You can also find it in my mix.
2. Machine Drum calypso – David Mayer of the keinemusik cru also in my mix. 😉
3. Back in the dayz JM feat N8 – Joyce Muniz a great jam by Joyce mixing Kraftwerk and featuring N8 of the Jungle Brothers.
4. Babylon System by Patrick Bohdi. It's coming on JEUDI records soon. Will put it in one of my next mixes. Heavy bassline tune.
5. Deep Inside – Claus Casper part of almost all my sets featuring a sample of TOTO's Africa. It puts me in the right mood for the night.
Do you have plans to play in Israel ? 
I had a few requests but we couldn't figure out any working date so far. But I m sure I will come to Israel soon.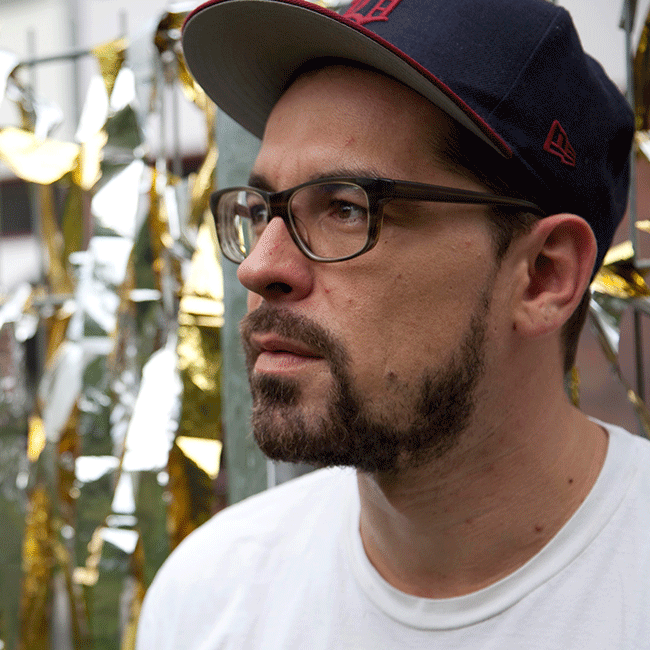 What can you tell us about this mix?
Oh, yes. I was in a special mood when creating this mix. I had a few days off in Bogota and was most of the time all by myself. So I was wandering through the streets with some music on my headphones.
Bogotas air is very thin, you know. So you always feel a bit dizzy and you are grasping for enough oxygene. The light is
amazing up there as the weather is changing constantly. That was the vibe I've created the mix in. Have fun listening!
Thank you for having spent the time to let our readers know more about your music and thoughts!

Doctor Dru Facebook
Doctor Dru Soundcloud